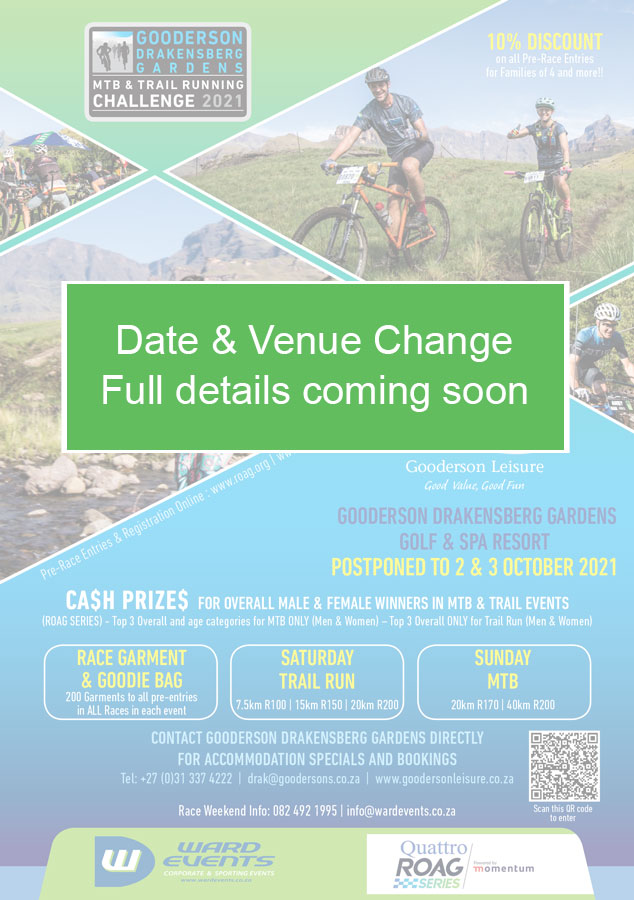 Ward Events is sorry to announce that we have been forced to make some major changes to the Gooderson Drakensberg Gardens MTB & Trail Running Challenge which was due to be held on October 2-3. We have had to move the event venue and change the date, but are delighted to be able to create an exciting new event, and the Central Berg MTB & Trail Challenge will now be taking place at the Champagne Sports Resort on the Cathkin Trails network on November 6-7.
After numerous Covid-enforced changes and rescheduling, and lots of consultation with all stakeholders, it was agreed the event would not be able to take place in its current form at the same venue. While the venue and date are different, Ward Events will still be the event organiser and the concept will remain the same with MTB races on the Sunday and trail running events on Saturday.
As we looked at all the options, Ward Events and ROAG know that many people look forward to their annual weekend away in the foothills of the Drakensberg and realised the event was a crucial component of the Quattro ROAG Series powered by Momentum. With all of that in mind, we realised we need to put on a great event at a spectacular venue, and we are confident the Central Berg MTB & Trail Challenge based at the Champagne Sports Resort will tick all the boxes.
While we are going out of our way to ensure the event is one of the top events on the 2021 race calendar for both MTB riders and trail runners, we do understand that the new dates and venue will not suit everyone.
You are an entrant in the TRAIL 7.5km and MTB 20km at Gooderson Drakensberg Gardens event and your entry  is valid for the equivalent event at the Central Berg MTB & Trail Challenge. However, if you wish to cancel your race entry with a full refund, please click here to send us an email and we will process your refund, or send a mail to meagan@wardevents.co.zawith the subject line Drakensberg Gardens Refund (and we will contact you).
Should you have booked accommodation at Gooderson Drakensberg Gardens Spa and Golf Resort, please contact the hotel directly on drak@goodersons.co.za
Champagne Sports Resorts are also offering excellent accommodation packages for the weekend – please contact them directly on 036-4688-000. Rates are from R995 per person per night sharing (dinner, bed and breakfast) or R1295 per person per night single (dinner, bed and breakfast) .